Hovering HannaH & the Atti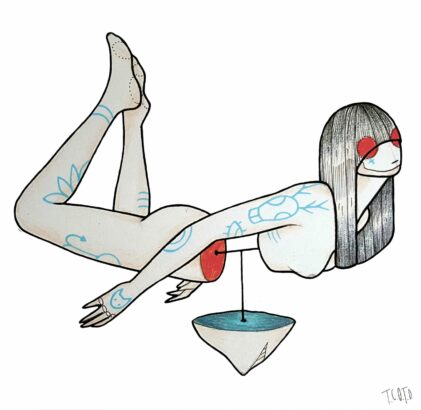 A long long time ago, she erupted out of a faintly auricular hum'…this is the story of Hovering HannaH, our most edifying celestial being. Suspended between the realms of her parents: sleep and wake.
Although she rarely shows herself in person, her presence is always felt throughout the province. For she has one purpose, and one purpose only; to know what is going on in the world. What makes us us? Whom and how do we love? Whom and how do we hate?… and all the things in between those things…. so she can adapt or change our surroundings if and where needed.
But how can she gather all the needed info? How can she be present everywhere at once? Every time of day, and night?
When Hovering HannaH came to being she did not come alone…
Within her belly the creatures now known to us as the 'Atti' were brooding. She bore them, one by one…and let them loose on the population.
Because of their domestic appearance, we easily adopt these Atti. We let them into our homes and keep them as pets. We have been doing so since the first one showed up, way back when. We gladly have them shadow us. Cause who doesn't like company?
And while time passes and we live our lives, our personal little Atta gathers our experiences and perceptions, our combats and struggles, our seasoning and strife. And while it collects our precious data, our little Atta starts shifting color gradually… with each passing moment.
It starts to glow, from top to bottom, underneath its fur. Once the glow has reached the tip of its tail, and the initial grayish Atta has turned completely red, the little beast parts from us. Fully saturated. And journeys back to its source…
Upon its return, Hannah picks the Atta by its tale and heaves it in front of her face. They make contact. Our Atta's otherwise blue-ish eyes turn red. The connection is restored. Loaded with enlightening stuff, the ripened little creature vanishes into Hannah's mouth and is devoured.
Now, this could sound terrible to you -or not…depending on your perception on things- but it is the easiest, fastest way for HannaH to extract the heaps of information brought to her by the aged beasties.
As soon as the Atta in question reaches her stomach area, HannaH recycles it. She uses the material left over, after extraction of the needed information, and composes brand new Atti with it…and unleashes it into the world again. She urges the Atta to find a friend, accompany this person until satisfied. Then return home, to her.
This way, going full circle. With the least of resistance. In a cyclic loop. From death to birth and the other way around…collecting valuable knowledge within the process. Being everywhere at once…